«Welcome to Alderamin on the Sky Wiki!»
| | |
| --- | --- |
| | Incomplete: This wikia is currently under construction! The contents are short, scattered and unedited (including layout colors). |
THIS WIKIA WELCOMES CONTRIBUTORS!
Please follow the rules!
Light Novel information take precedence over any other materials related to the series:
Light Novel >Manga >Anime
Katjvarna Empire was at war with their neighbour Kioka Republic.
Ikta Solork a lazy dislike of war and admirer of women was unwillingly preparing to take the High Grade Military Officer Exam due to certain circumstances.
No one predicted that Ikta would later on become a soldier referred to as a great commander and survive a world embroiled war with his superior genius.
Imperial Order of Knights
The title of Imperial Knight (Knights 騎士団[編集]) usually, was one of the supreme honors given only unto High Grade Military Officers who performed heavy services during war.
The nobility under the Imperial class system existed for the purpose of selecting young people from influential pedigrees to be related to the Imperial Family through marriage, and as a general rule one did not rise to nobility from the common class. The near unique exception to that was the conferring of decorations of "Imperial Knight", and numerous benefits came along with it. A large increase in pension, a more influential voice in political matters, permission to attend meetings hosted by the House of Nobles.
Person that granted to become a Knight is Ikta Solork, Yatorishino Igsem, Torway Remeon, Haroma Bekkel and Matthew Tetridch.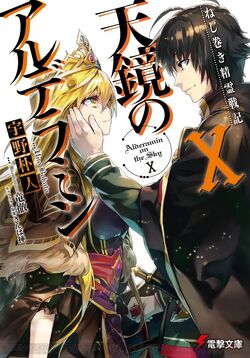 Light Novel Volume 10
Released July 9, 2016
ISBN 978-4-04-892196-1

Haroma Bekkel
Haroma Becker (ハローマ・ベッケル)
Natural born healer in a Imperial Order of Knights.
« READ & ADD MORE DETAILS ABOUT Haroma Bekkel »
Community content is available under
CC-BY-SA
unless otherwise noted.